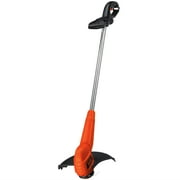 Trim your lawn fast and quick with the Black & Decker ST7700 Trimmer and Edger. It is ideal for trimming weeds, grass or any overgrowth. This 13'' automatic feed string trimmer is easy to use and efficient with a 44 amp powerful motor. With the Groom N Edge technology, changing from trimming to edging takes seconds. You can also edge along the sidewalks and driveways with precision thanks to the edge guide provided. This Black & Decker trimmer enables you to cut grass even in difficult-to-reach areas where mowers cannot. Designed with an Automatic Feed Spool (AFS) system, this feed trimmer automatically advances the cutting strings, avoiding bumps, thus preventing accidental cord disconnection. The ergonomic auxiliary handle gives you the maximum comfort when handling this device. The Black & Decker ST7700 Trimmer and Edger makes your lawn look perfect and beautiful in no time.
4.4 amp motor is ideal for tough weeds, grass and overgrowth.
The AUTOMATIC FEED SPOOL - AFS® automatically feeds trimmer line when needed with no bumping required.
Groom 'N' Edge™ converts from trimming to edging in seconds.
13 in. cut path gets the job done fast.
Edge guide allows precise edging along sidewalks and driveways.
Built-in auxiliary handle for greater comfort and control.
Cord retention system prevents accidental cord disconnection.

Customer Reviews