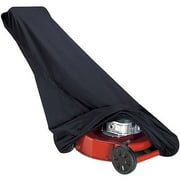 This sturdy, water-resistant lawn mower cover keeps gas, electric, and push reel mowers clean, dry and ready to use.
Gas, Electric and Push Reel Mower Cover:
Fits gas, electric and push reel mowers 73.5"L x 25.5"W x 23"H

One-year limited warranty
Weather-X fabric with water-resistant backing for extra weather and abrasion protection
Protects against UV damage, rain, dirt, birds and tree sap
Covers both mower and attached catcher on rear discharge mowers
Elastic shock cord in bottom hem for a quick, custom-like fit
Click-it closure on back makes installation and removal a snap
Also fits with handle down
Integrated storage bag
Customer Reviews
Good cover for mower
I ordered this because of the high customer rating and when it arrived, I was pleased by the attached storage bag that the cover was neatly tucked into.
I put it on my lawnmower (A Craftsman 21in) that I have to keep on the back patio under the roof overhang with the handle folded down to save space. The cover still fit snugly and covered the engine completely. It is also a good quality, slightly rubberized cover, so I wouln't want to put it back on until the engine had cooled down, but that's just common sense.

Overall, I'm pretty pleased with this purchase and having a snugly fitting cover over your mower helps keep moisture out while just looking a whole lot better.
Mower Cover
Material is very durable . . . fit is fine . . .it should protect the machine . . . and it gives me more space in the garage.Rusty573
Good product.
Great way to protect the mower against the weather, particularly since I keep it outside. I like the attached storage bag, makes it easy to fold right into it and keep it out of the way when not in use.Zardoc
Great cover
Very good cover, keeps rain out keeps mower dry and in new like condition. Made of ver durable material. Has a snap on the bottom to completely wrap the mower and you don't have to remove the bag. Will buy another for my other mower. Wish they made one for my rider too.Oneale4u
great cover
it fits perfectly on my gas push mower. well see how well it protects the mower.DIAMOND
You may also be interested in