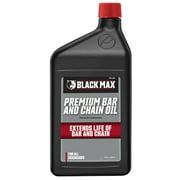 Black Max Premium 1 Quart Bar and Chain Oil is the fool-proof way to extend the life of both your tool and its bar and chain. This oil is meant to be used with chainsaws or any other chain-driven equipment to prevent wear and tear. Black Max Premium Bar and Chain Oil is designed to cling to the chain even when at high speeds or temperatures. Using this bar and chain oil will give you peace of mind in that it can help prevent chain failure, overheating of tool in use, and chainsaw kickback. Our Black Max Premium Bar and Chain Oil can be used with all chainsaws. Includes 1-Quart Bottle (32oz).
Extends life of the bar and chain
Helps maintain your tool
Clings to chain at high speeds and temperatures
Protects against chain failure and overheating
Premium protection
For use on all chainsaws or chain-driven equipment1 Quart (32oz) Bottle
Customer Reviews

What can I say it's oil, it works and will order it again because of the price.Kim

Excellent oil for your chain saw keeps your chain saw running smooth. Great buy!
Works as good as the higher priced ones.
I have used this chain saw oil and it works as good as the higher priced oil. It works great. ADean
You may also be interested in